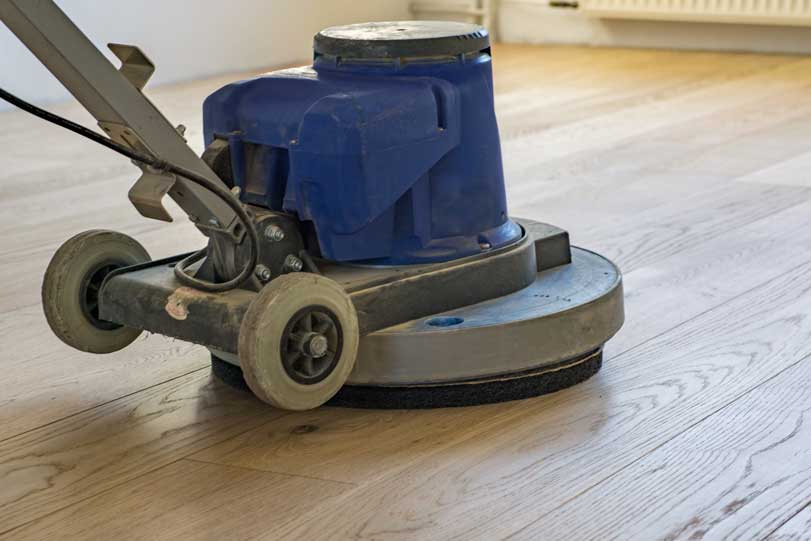 Buffing hardwood floors restores their beauty and produces a long-lasting shine. Getting professional results by buffing your floors on your own is possible. Here is how.
Before Your Start: Here are Some Important Things to Consider
If your hardwood floor has holes, deep dents, or splinters, you may need to have it refinished or replaced. Therefore, inspect your floor first. Proceed to buff only if your floor has minor scratches or marks. Buffing your hardwood floor is an excellent way to hide those imperfections.
1. Get Your Floor Ready for Buffing
Use a stripping product or mineral spirit to strip the old wax or oil on your floor. Next, take a damp rag or mop and wipe it dry. Alternatively, let it dry on its own and sweep afterward.
2. Rent the Equipment and Collect Your Supplies
Now that the floor is prepared for buffing, you will need to get your supplies together.
Rent a floor buffer
Purchase polishing pads
Purchase a floor finishing product
3. Wear Protective Gear
To buff your floor like a professional, go all the way and take the necessary safety precautions.
Wear:
Respirator mask
Safety glasses
Work gloves
4. Use the Correct Buffing Techniques
Read the instructions for how to correctly apply the floor finishing product. Set the floor buffer machine to operate clockwise. Review the buffing pad and replace it if it is dirty or ripped. Start buffing near a wall in the room so that you can walk backward as you work. Use a light touch as you operate the buffer and in a sweeping motion, buff from left to right.
Pro Star Rental is your one-stop-shop for all your floor buffing equipment needs. Call the Texas location near you and get high-quality results.
Belton: (254) 456-7368
Dallas: (469) 482-0980
Longview: (903) 759-4471
Nacogdoches: (936) 564-5224
Tyler: (903) 509-1550
Waco: (254) 754-2359
Waxahachie: (972) 937-7368
Wichita Falls: (940) 723-8494
Restore the luster of your hardwood floors. Rent a buffer today!
By Pro Star Rental 10-30-2020