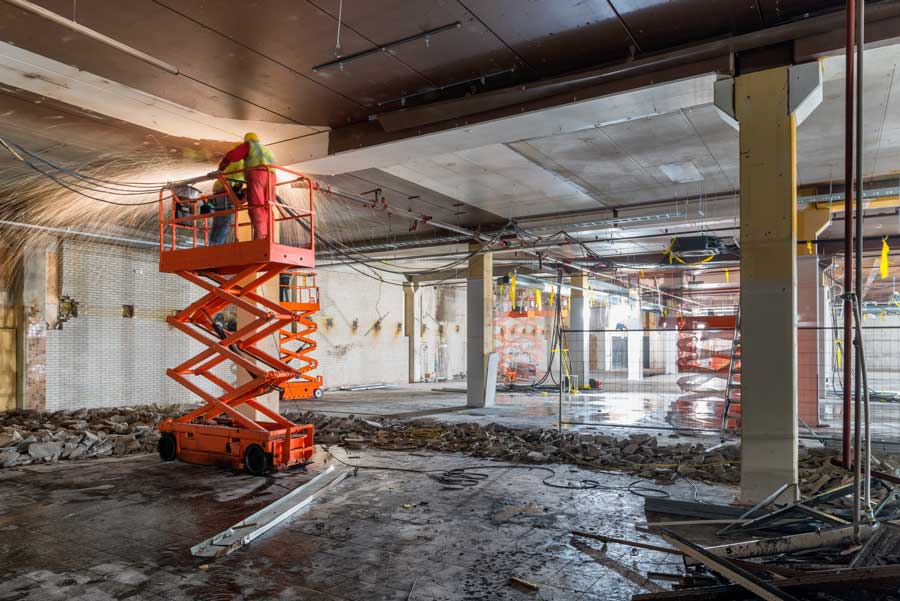 It is imperative to put safety first while working at elevated levels. This means you must ensure you and your team are protected by the correct equipment while working on large scale construction projects. Scaffolding is the tried-and-true method for temporary height gains in the workplace. Aerial lifts, such as scissor lifts, are used nowadays as safer and more practical alternatives to scaffolding.
What Are Scissor Lifts?
Elevated work platforms known as scissor lifts include an X-shaped mechanism for vertical lifting. When the arms are dropped, they give the impression of being straight. With each subsequent rise of the platform, the distance between the supporting structures beneath it increases, resembling the shape of open scissors.
Scaffolding and aerial lifts have similar definitions in OSHA's regulations. However, scissor lifts have various advantages over standard platforms, making them a superior option for your upcoming building project.
The 5 Advantages of Scissor Lifts over Traditional Scaffolding
There are several benefits that scissor lifts provide qualified construction professionals over more conventional forms of scaffolding.
Wider Applications
Indoors or out, scissor lifts are a convenient and safe way to access high places. Their foldability and wheel mobility allow them to access areas that conventional scaffolding cannot reach. Because many versions are now equipped with all-terrain tires and self-leveling features, your crew can utilize the lift in more challenging environments.
RAISED RATIO OF EFFICACY TO PRODUCTIVITY
Safely erecting conventional scaffolding takes time, and the structure must be dismantled and relocated as work progresses. It is easy to move and set up a scissor lift. By lowering the platform and moving it to the following location to be raised, you can save time and effort on the job.
You can store tools and equipment for the job on many scissor lifts. If your team always has access to the supplies they need, they can get to work immediately and keep up their high output level.
PUBLIC SAFETY IMPROVEMENTS
A common place for workers to perform overhead tasks is at a location that also serves as a pedestrian thoroughfare. As they are far more compact than conventional scaffolding, scissor ​ lifts improve the safety and convenience of pedestrian walkways. Quicker dismantling afterward means speedier access to sidewalks compared to traditional framing.
Increased Stability and Security
Features like outriggers enhance the safety and steadiness of contemporary scissor lifts. These plates attached to the bottoms of the metal legs provide better surface grip and assist avoid unwanted tipping over.
Also, because of how easily and quickly they can be operated, they may be lowered and relocated even more promptly in extreme weather. You'll have more time to round up your team's other resources and get them to safety.
Time and Money are Both Conserved
By comparison, using a scissor lift to reach a higher location instead of scaffolding allows work to be done more quickly and with fewer people needed to do the task. Thanks to the improved efficiency, you can increase your profits by taking on more positions. Your crew will be able to devote more time to the actual building rather than spending hours removing scaffolding, thanks to the reduced amount of time spent on removal.
Scissor lifts are helpful for many construction jobs. A few popular jobs that use this type of equipment include:
-Painting, drywall finishing, and masonry work like brick repointing are all examples of building maintenance.
-Construction on the roof, particularly for the easy movement of bulky materials.
-Tasks include the installation of overhead wiring, conduit, and lighting fixtures.
-HVAC piping and wiring.
To use a scissor lift safely and effectively, you need to familiarize yourself with how it functions and always stick to the guidelines set forth by the manufacturer. The professionals at Pro Star Rental are well-versed in scissor lifts and scaffolding both and can help you select the most appropriate setup for your needs. Our team will also make sure to go over safety guidelines for the scissor lift with you!
By Pro Star Rental 11-3-2022