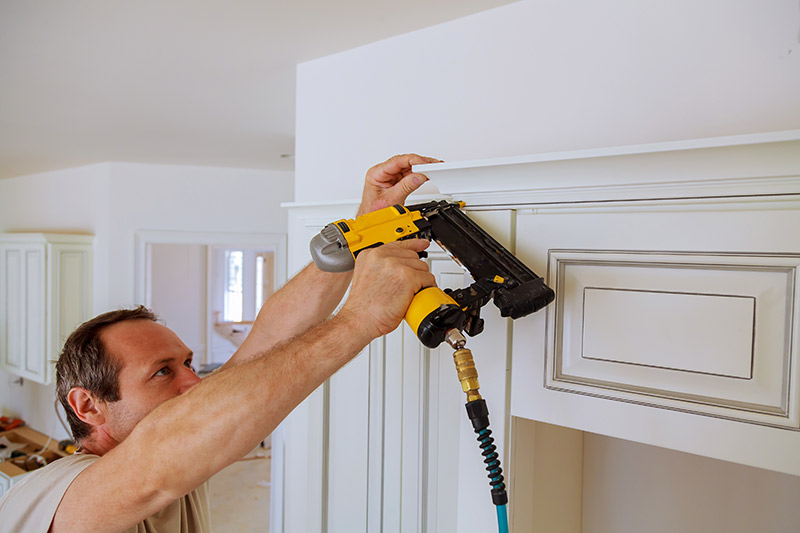 Doing your own home projects is a great way to save money. Plus, there is no greater satisfaction than being able to tell your friends and family that you completed a project by yourself. Having the right tools handy can make projects run exponentially smoother. But what about when you are finished with your project? Are you still going to get enough use out of that specific tool? That is why sometimes it makes more sense to rent tools rather than invest in them. Here are some common home projects along with the rental tools that can make them easier.
1. Pressure Washer
A pressure washer is a powerful, industrial-strength machine that can clean any surface in your home. They are perfect for cleaning decks, patios, walls, and siding. If you need to clean a large area of your property or have tough stains to remove from your deck, patio, walls, or siding, then renting a pressure washer is the best option for you.
2. Nail Gun
The best way to nail a project is to have the right tools for the job. A good hammer is one of the essential tools in any home builder's toolbox, but there are other tools you may not have considered before. For example, you'll need a pneumatic nail gun to get the job done quickly and efficiently when building furniture. When using a nail gun, always use safety glasses to protect your eyes from debris that may fly up into your eyes when shooting nails into wood or other materials.
3. Log Splitter
Log splitters help make your life easier by cutting down on the time it takes to chop wood. It would help if you rent log splitters since they come in many shapes and sizes, and also you can find one that is perfect for your needs. It is essential to find a suitable log splitter because some are not powerful enough to cut through logs, while others are too heavy and difficult for some people to use.
4. Cordless Drill
Cordless drills are an essential tool in the home improvement arsenal. You can use them for various projects, including drilling holes, driving screws, and mixing paint. You can get this tool with different features and power levels depending on the type of work you plan to do with it.
Furthermore, you need to rent a cordless drill if you work in tight spaces where running an extension cord would be difficult or impossible. They are also great for jobs that require you to drill into hard surfaces like concrete because they can generate more torque than their corded counterparts.
5. Aerial Lifts​
Aerial lifts are essential for some home renovation projects. They enable the workers to work on the roof or in high places without climbing there. They will help with home renovation projects and for construction jobs, like building a house or apartment.
Bottom Line
A great way to save money on home projects is to rent tools instead of buying them. You can rent all the tools you need to get the job done without purchasing any. Plus, this allows you to try different tools before investing in them. At Pro Star Rental, we carry a wide variety of rental equipment. Give one of our stores a call today to see if we have what you need!
By Pro Star Rental 1-14-2022